Corporate Idiocy
CNN Labels Ads As 'News'
We all know that things have been tough lately over at AOL Time Warner — and nowhere has it been tougher than at CNN. Most of the ads they're showing these days seem to be for other units of AOL.
Anyway, they have now gone off the deep end in an attempt to raise some money. On their website, they're running ads and billing them as "news". Here's a picture: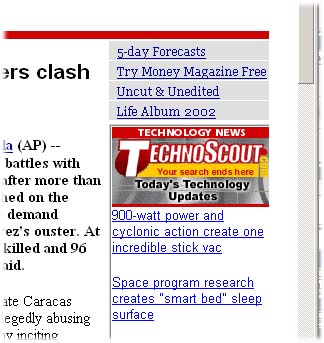 Newspapers — even the NY Times online, which runs a list of little text ads in the same place on the screen as CNN — are careful to always mark advertisements as such. It's an incredibly basic part of journalistic ethics; any ad that could possibly be mistaken as news content by even the dimmest reader are labeled. Here, though, we have CNN doing just the opposite.
Either CNN has become so sloppy that they're not paying any attention at all, or they're so desperate for money that they're willing to sell their reputation.
One way or the other, it's not a good sign.

Posted by tino at 22:32 11.04.02