Corporate Idiocy
Dangers of Product Placement
I recently watched Demolition Man on TV. Demolition Man was made in 1993 and set in something like 2032, with Sylvester Stallone playing John Savage, an unfrozen cop from the past (i.e. our present) chasing Simon Phoenix (Wesley Snipes), an unfrozen bad guy ditto. The basic plot is that, in 1996, Savage captures super-bad-guy Phoenix, but he is believed to have caused the deaths of some 30 hostages in the process. Phoenix is frozen in the L.A. County cryojail (remember, the opening scenes of this 1993 movie are set in the exotic and high-tech world of three years into the future), and, because of the hostage thing, Savage is frozen, too. Oops.
Flash forward to 2032, when Phoenix escapes from prison while he's temporarily unfrozen for a parole hearing. The future police are helpless, all violence (not to mention foul language, salt, meat, tobacco, etc.) having been banished from society by a "benevolent" dictator who Phoenix characterizes as an "Evil Mr. Rogers". Sandra Bullock plays Lenina Huxley (!), the only female police officer of the future, who suggests unfreezing Savage, the legendary cop from the 20th century. This is done, and the chase is on — but the by-the-book future chief of police doesn't like Savage's maverick ways.
I assure you that, despite that dog's breakfast of clichés masquerading as a plot, this is actually a movie worth watching. To begin with, the future female police uniform consists of a catsuit, boots, and a short leather jacket. And, as I've already pointed out, Sandra Bullock is the only future female police officer.
And, as if that isn't enough, this is an pretty well-written movie. The future dystopia is consciously a very goofy one; it's rare to see a movie that can laugh at itself without being wall-to-wall farce.
Screenwriters don't get a lot of respect, generally. You never see a writer's name on the marquee at the cinema, but if a movie is good, it comes from a good screenplay. A lot can be done to screw up a good screenplay, but very little can be done to salvage a movie based on a bad one. The usual Hollywood approach to a bad screenplay is to have about seventy rounds of re-writes, and then to throw a lot of special effects and marketing at the thing.
Demolition Man's screenplay was rewritten by one Daniel Waters, who was responsible for both Heathers and Happy Campers (among others), movies that did not take themselves too seriously. The main arc of Demolition Man is standard action-movie stuff, but there's a lot of cleverness woven in that shows Mr. Waters' hand.
Another distinguishing feature of Demolition Man is that it was one of the first feature films to incorporate significant product placement. GM coughed up to have John Savage drive around in an antique 1970 Oldsmobile 442, and a number of GM concept cars make appearances on the streets.
The best product placement in the movie, though — possibly the best in any movie to date — involves Taco Bell. After apparently saving the life of the evil Mr. Rogers, Savage and Huxley are invited by Evil Mr. Rogers to a gala night of dinner and dancing at Taco Bell. Fish-out-of-water Savage quite understandably considers the choice of venue a bit odd, and says as much.
Lenina responds, "[…] You do not realize that Taco Bell was the only restaurant to survive the franchise wars." (As in so many visions of the future, contractions have been eliminated from the English language.)
Savage: "So?"
Lenina: "So now all restaurants are Taco Bells."
It's brilliant, and all the more so because Taco Bell had the courage to laugh at itself. Remember, this is a dystopian future; the fact that all restaurants are Taco Bells is part of the horror. Taco Bell not only allowed their image to be used this potentially risky way, but, if my memory is correct, they engaged in some serious cross-promotion with the film, using a clip from the movie in their TV ads. It's a product placement that actually adds something to the movie, too, rather than just standing there as a monument to the producer's greed.
Anyway, so as I was saying, I watched this movie on TV, on TBS. And — they cut the Taco Bell reference, and cut it clumsily. The dialog no longer even makes sense, with Lenina now saying something like "You do not realize that the only restaurant to survive the franchise wars." There's a verb missing in that dependent clause.
You can see for yourself what the TV version is like, and help me exercise the right of fair use in the process, by watching this little clip from the TBS broadcast:
You need Quicktime to make this work.
If you don't like embedded movies, you can download it here.

It can't be that "Taco Bell" is offensive — as, apparently, most words stronger than "hell" are (another good joke was destroyed as a result of the muting of foul language; machines on the walls in the future fine you "one credit" for using profanity — which of course was incomprehensible since all the profanity was dubbed out of the broadcast cut). References to Taco Bell were left on the screen: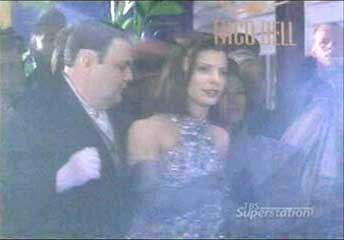 Here, Sandra Bullock and Otho can be seen watching the action through a glass door clearly marked "Taco Bell".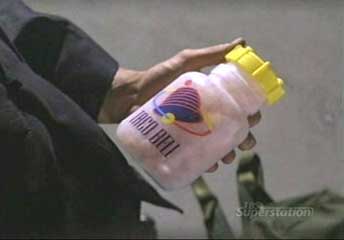 And here Stallone examines a bottle of future "food" dropped by bandits after having made a raid on the Taco Bell.
My guess is that there's one and only one broadcast cut of the movie, and it's got the Taco Bell line cut out so you can sell advertising to, say, McDonald's if you like. (As if happens, the only fast-food sponsor of the broadcast I saw was Long John Silver's, which is owned by Yum! Brands, also the parent company of Taco Bell.) The visual "Taco Bells" are left in because it just would have been too much trouble to remove them — the Taco Bell bottle is important to the plot, so cutting the entire scene wouldn't be possible.
(Though, with the fancy production facilities available to Hollywood, the movie in its original form had all references to "Taco Bell" changed to "Pizza Hut" — also a Yum! property — for distribution in countries without Taco Bells. How they handled Savage's reference to "Mexican food", I don't know.)
Being able to sell ad time to a rival company is a reasonable concern, I suppose, but it means that product placement in movies will continue to tend toward jarring, randomly-inserted product shots, rather than the much more effective (and lucrative) integration of products into the stories: you can cut those out later if need be. But limiting product placement to only the most easily-excised — and thus, by definition, non-story-integral roles — means that it won't work as a serious revenue-generator.
Precisely who is served by cutting product placement — some product placement, anyway, the clever stuff; all the boring crap is left in, of course — from TV broadcasts of movies is unclear. The producers lose, because their placement is worth less. The advertisers (i.e. product-placers) lose, because their name isn't in front of the public. And the viewers lose by seeing movies cut even further to ribbons than is already the norm. I suppose the TV companies win by not giving Taco Bell any free exposure on their networks.
Unfortunately, in the process they are diminishing the value of product placement as an advertising strategy overall; they may regret this when the day comes that the TV companies themselves want to make money from product placement.
Posted by tino at 20:07 24.01.03