Urban Planning
Cars, Parks, and Car Parks
Not long ago, Brian Micklethwait on Samizdata wrote about the aesthetics of car parks. Car parks — parking lots — are a necessary part of our environment, and useful, to be sure. But why is it that they're so ugly?
The answer is that they're designed entirely for cars, and not for humans. The term car park — not much used in the United States — is interesting in this. The problem is that car parks are too much about car, and almost not at all about park.
I was recently in Williamsburg, VA, where there is a good parking lot. I was fortunately armed with my camera.
The parking lot in question is at an outlet mall that's otherwise unremarkable. The only thing notable about it is that they left some of the trees alone when the built the parking lot: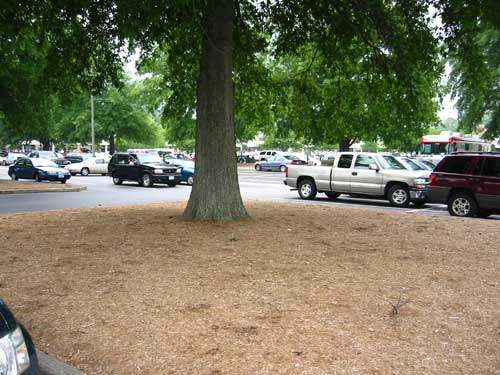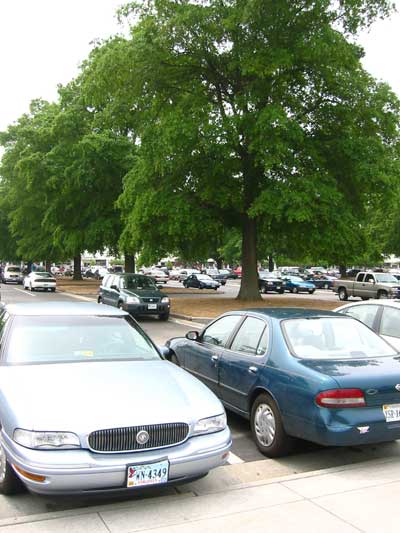 For comparison, here's a parking lot annex at the same outlet mall, built with no trees in it, a much more hostile environment: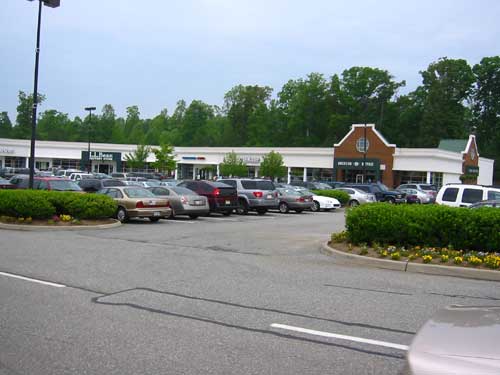 None of these are really ideal spaces, but given that we have to have somewhere to put cars while we're not actually driving them, the parking lot in the first two photos seems much preferable to the one in the third. The only reason the cars are there is because of the people, yet most parking lots — habitats for both cars and people — are little different from the enormous tracts of asphalt near ports where cars for export are lined up (habitats just for cars).
Obviously, it's less expensive to build an ugly parking lot. Not only do you not have to spend any money on trees, but you get more parking spaces in the same amount of land as well. Very little we build in our society is purely utilitarian, though — even an outlet mall has little architectural embellishments intended to make the thing more pleasant to look at — so I am unconvinced by the utility argument.
I think it's because the need to park large numbers of cars in the same place is a very recent problem. The need for parking lots as such at all has almost entirely arisen since World War II, and it's within my memory that parking lots have grown so large as to be environments in themselves, rather than just fringes around stores and the like. When I was a child, the parking lot at our suburban grocery store had precisely three ranks of cars in front of the building and on one side: that is, one rank of cars would nose in against the building, and then two more ranks would park nose-to-nose in the lot. The far reaches of the parking lot were no more than about fifty feet from the building. I wasn't driving then, of course, but I don't remember parking there ever being a problem.
For whatever reason, parking in the suburbs is a problem now, and the solution has generally been simply to pave over more ground for larger parking lots — almost all of which goes unused almost all of the time. This hostility of parking lots is almost certainly costing merchants business, and it contributes a great deal to today's familiar suburban hostility to further development.
Maybe a good short-term solution would be to offer tax credits or zoning breaks to developers who build car parks that function on some level as parks. I predict that were there to be enough of these built, suburbanites would become less hostile to more development, and developers and merchants would come to realize the benefits of having parking lots that were an enticement, rather than an obstacle, for potential customers.
Posted by tino at 23:36 26.05.03