Random Interesting Thing
Found At Last
I have been searching for a Bert doll for some time now. For whatever reason (possibly because he's evil), Bert merchandise is difficult to find these days. At Toys Backwards-R Us, there's no Sesame Street merchandise to be found at all as a result of some licensing deal with Spongebob Squarepants or some such competing television show. Do kids even watch Sesame Street any more? I suppose not.
Anyway, I found Bert in a bookstore the other day, and bought him. Here's a photo of Bert sitting on Lapzilla. I think some of the others may be feeling jealous and plotting revenge: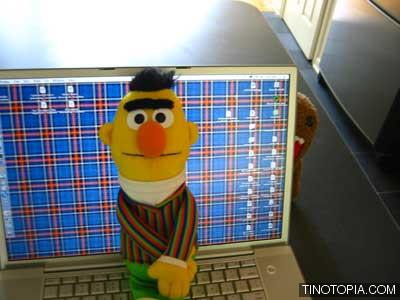 Maybe Bert has faded into the shadows in order to quiet speculation about the nature of his and Ernie's relationship. Maybe Bert is actually being held incommunicado at Guantanamo Bay.
Or, more likely, it's because the central message of Bert and Ernie — how children and adults are different and yet alike — is one that's no longer popular.
Posted by tino at 11:37 5.06.03

This entry's TrackBack URL::
http://tinotopia.com/cgi-bin/mt3/tinotopia-tb.pl/137
Links to weblogs that reference
'Found At Last'
from
Tinotopia
.