Education
Teen Drinking and Ordnung
I really have to start resisting the temptation to write about some of the things I see in the news. Some of these stories are so absurd in themselves that I don't have much to add. Let's see, though.
Today's New York Times tells that story about the prom at Scarsdale High School. The headline says that limos are banned this year, but the full story is worse:
On prom night, June 12, Scarsdale High School seniors — in slinky strapless gowns and uncomfortable bow ties and cummerbunds — will have to be dropped off at school by their parents, attend a pre-prom party organized by the PTA and then climb aboard buses along with faculty chaperons.
Apparently, 'scores' of students were drunk at Scarsdale's homecoming dance last fall, and this is the school's attempt to prevent a repeat of that experience.
I can certainly symapthize with the school authorities on this one — it's entirely legitimate for them to take steps to try to prevent even a minority of students showing up incredibly drunk for the prom — but still I can't help but wonder whether their strategy isn't going to be counterproductive.
Their strategy is based entirely around infantilization of the students: they have to be brought to the school by their parents (i.e. they can't drive themselves), where they'll be supervised until they're trundled off to wherever the prom is, after which they'll be brought back to the school and issued back to their parents. Statistically speaking, since the prom is held in June and since people tend to turn 18 sometime in the twelve months following the beginning of their senior year in high school, the majority of the people being treated this way are legal adults. They can vote and be elected to many public offices; they can serve in the military; they are full legal participants in our society, except that they're not allowed to posess this molecule: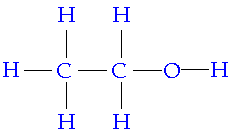 That's C2H5OH, or ethanol, which is the active ingredient in beer.
The school is entirely justified in trying to keep people from showing up sloppy drunk at a shindig it's hosting.
In doing this by very closely supervising the activities of these legal adults, though, is the school making things better, or worse? These people will soon leave high school, and will live in a world where their activities are not so closely monitored. Eventually, they will live in a world where they can legally purchase and consume all the ethanol they want. Amazingly enough, as restrictions on youth drinking have become more and more, well, restrictive, young people have started drinking less and less responsibly once those restrictions are lifted. This, of course, is just used as evidence for even more zero tolerance and more restrictions.
Wouldn't it be better to teach the kids to drink responsibly? I realize that the laws put the school in a bind here; but couldn't the school simply refuse admission to anyone who showed up drunk, and throw out anyone who became drunk while at the prom? The problem here, after all, is that these kids are not behaving responsibly. You don't make people less responsible, not more, by herding them around and closely controlling their activities.
For people of any age, there are social restrictions on when and how much one should drink. But the moral absolutism that declares that anyone under 21 years of age should not drink at all actually leads to less real control over drinking by young people, not more.
Drinking alcohol at all is, for someone under 21 in the United States, an act of rebellion. It's a violation of the law, and of the prevailing mainstream social opinions on the matter. A law that mandated the death penalty for muggers would result in a lot of mugging victims being killed; if you're facing the same penalty, there is be no legal advantage to leaving witnesses behind. Similarly, since taking even one drink is illegal (and, according to some, immoral) for a young person, the systems that society has developed over thousands of years for consuming alcohol in a responsible manner are of no use. So teenagers — who are unfamiliar with drinking in the first place — are the people in our society least likely to drink in any kind of situation where responsibility is encouraged.
Banning limos from the prom, particularly given stories like this one from the Washington Post recently, about teenagers hiring ever-larger and more-absurd vehicles, might be a good idea simply in the interest of good taste. But extreme in loco parentis protection of legal adults from their own stupid decisions is a sick and dangerous idea, and one that's destined not just to fail but to backfire.
Posted by tino at 17:51 6.06.03