Education
Education Spending and Performance
There has been some discussion (here and here among other places about a chart that currently graces the front of the Department of Education's website.
For your convenience, here is the chart: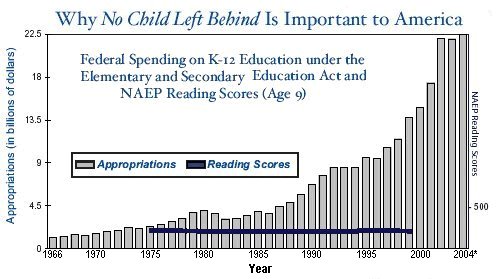 This looks pretty damning, and it appears to confirm what we all believe to be true (or what I believe to be true, anyway): that expenditures on education don't have much to do with results. Education isn't an inherently expensive process. In fact, usually, the more money spent on primary education, the worse the results. This isn't because money sucks knowledge out of the heads of children, but because most school systems, when faced with problems, throw money at them. The worse your problems, the more money you're going to try to throw at them.
So education spending has risen — though not as much as you'd think from that incredibly bad chart. To begin with, since test performance has only fluctuated within a three-point range, there's no need to give the only tick mark on the test-score axis the value of '500', putting the test score line way down at the bottom of the chart. And second, these expenditures are not adjusted for inflation.
If we convert everything to 2003 dollars, the spending for 1975-2003 looks like this: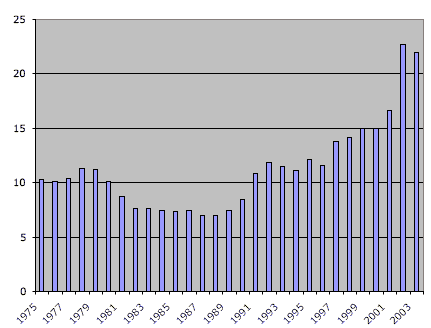 It doesn't look as bad now (except, amazingly, from 2002-2003), but in real terms one type of education spending has indeed risen, while one measure of educational performance has not. 9-year-old students in 1975 scored 210 on a reading test; in 1999, they scored 212. It's a dead heat.
And that's what nobody seems to be talking about. If we assume that the test is valid and that it didn't change radically between 1975 and 1999, students throughout those years had the same performance. Ford, Carter, Reagan, Bush, Clinton, and the current Bush, and their Secretaries of Education, don't appear to have had much influence on things either way. The average child born in 1990 appears to have been able to read, at age 9, just as well as the average child born in 1966 could.
If you go by what politicians and newspapers have to say, we're in a constant crisis of education. I have never read any assessment of education that didn't lament how much dumber kids were than they were in the assessor's salad days, thirty or so years ago. In 1890, people were saying this. In 1950, in 1960, in 1970, and so on. Our schools are, it would seem, turning out generation after generation of dullards, unable to read or do simple arithmetic. Nobody can find the United States on a map, and nobody's quite sure of when the Civil War was fought, or why.
Yet somehow, the Ship of State has sailed on. This is why I'm almost infinitely skeptical of any claims of failure of, or imminent failure of, any education system. Some schools are better than others, and some teachers, as we all know, are better than others. But the simple fact is that this has always been the case. It's probably possible to eliminate or improve some of the worst teachers and schools, and to eliminate or decrease the apathy (or hostility) toward education that you find in the cultures of the very worst students, and in so doing make us a smarter nation. A failure to do so, though, will not result in society going down the tubes.
Posted by tino at 21:17 18.07.03