Random Interesting Thing
Christmas Is Coming
Here we are, not even halfway through October, and Christmas decorations have already appeared in the stores. For sale, at least; not too many places have decked the places out with holly and Santa Clauses yet.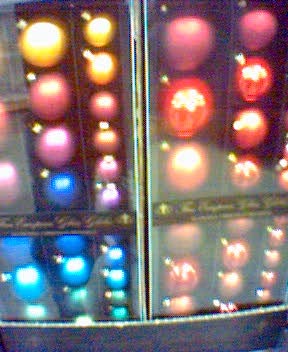 Christmas-tree balls for sale in Winchester, VA today.
I love Christmas, even the commonly-sneered-at 'commercialized' Christmas. I love mall Santas, and Christmas music everywhere, and wreaths of the fronts of the cars of the deranged, and Christmas-themed soft-drink packaging, and all of it. If there were a Power Rangers Christmas Special, I'd probably watch it.
But, while I am anxious for Christmastime to come, and while I am generally not one of these people who complains about Christmas decorations appearing in public too early, it does occur to me that having Christmas year-round would spoil it somewhat. They're definitely pushing it this year.
Posted by tino at 22:51 10.10.03