Random Photograph
You Pay Now!
I'm lazy, so for now I'm going to just continue posting pictures of strange things I've seen.
This is a poster I saw today in the Warren County Government Center, a converted IGA supermarket in the middle of Front Royal. It advertises some kind of Virignia tax amnesty program.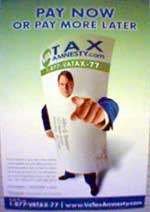 I'm sure they think this is light-hearted. I suppose it never crossed their mind that "Pay now or pay more later" is possibly not the least-antagonistic thing you could say to taxpayers — especially since I'll bet nearly everyone looks at this, and, as I did, thinks to themselves that this is a bit different from the normal tax routine of "Pay now, and pay more later".
Posted by tino at 18:43 17.10.03

This entry's TrackBack URL::
http://tinotopia.com/cgi-bin/mt3/tinotopia-tb.pl/203
Links to weblogs that reference
'You Pay Now!'
from
Tinotopia
.