Customer Service
Bad User Interface Bites Back
So the K-Mart here in Front Royal has, it seems, decommissioned their self-checkout lanes. They're currently being used to display 7-Up cakes and Dracula costumes.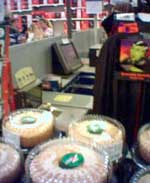 The problem with these things wasn't that they weren't needed; they are. On weekends, this understaffed K-Mart has long lines at all the tills, and certainly loses business from people who just don't feel like standing around waiting to hand over their money.
The problem was that these were self-checkouts of the bags-on-a-scale variety. These try to keep the customers honest by weighing the bags after every item is scanned; if the weight of the bag doesn't increase by the amount the system thinks it should increase, the recording barks at the customer, telling him to remove the last item from the bag. Every place I've seen with one of these has the same problem.
So because the store lives in terror that a customer might try to slip unpaid-for items into the bags, these do-it-yourself tills make life even harder for the customers. The customers are now faced with the choice of dealing with these annoying machines, or waiting in the long lines; they decide instead to go somewhere else entirely.
Today's businessman seeks to improve his own profit margin while not taking on any increaseed risk or uncertainty of any kind himself. Self-service tills that were not so paranoid would be useful, but, yes, they would result in increased shrinkage as customers walked out of the store with a few items they hadn't paid for.
Shrinkage could be reduced to near zero, however, by returning to the style of retailing of a century ago, where customers came up to the counter and told the clerks what they wanted. The clerks got the merchandise from shelves that were not accessible to the public, and presented it to the customer.
As it turns out, this isn't very good for the retailer, as it's a labor-intensive system, and it pretty much eliminates the possibility of impulse purchasing. The modern retailer understands that the risk from shoplifters is offset by the advantage of having the customer fetch his own goods.
We're lucky that retail made this leap decades ago, because it probably wouldn't be tried today.

Posted by tino at 16:36 28.10.03