General Idiocy
Chocolate Decadence
I have written about this very issue before, but as I now have a photo to go along with it, there'll be an encore. Besides, I find the topic so damned amusing that I can't resist.
Cold-War American movies that featured Russians always involved, at some point, the Russian characters pointing out that the United States was decadent. I am not sure whether Russians actually said these things, but in a Marxist's view of the world the United States is quite decadent, i.e. in a state of decay.
Anyway. A lot of quite stupid Americans saw these movies, and they concluded that, if the Soviets were calling the U.S. 'decadent', well then 'decadent' was the thing to be. Being equipped with neither education nor dictionaries, their minds came to understand 'decadent' as being something represented by well-stocked grocery stores, the Christmas tree in Rockefeller Center, Cadillacs, and musical comedy. That is, 'decadance' means everything that most clearly distinguished the United States from the Soviet Union.
While you'll see the word deployed to hawk all kinds of stuff, from feather boas on QVC (which probably are actually indicative of decadence) to expensive jewelry from legitimate dealers (more properly decadent in the Marxist sense), the notion of 'decadence' has for some reason particularly attached itself to things involving chocolate.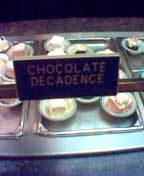 'Chocolate Decadence' as pictured here is chocolate cake with whipped-cream frosting, topped with little — very little — chips of toffee. You grab the inch-and-a-half square portions yourself out of a fluorescent-lit stainless-steel tub and carry them back to your table, where you wolf 'em down with bent and scarred Chinese-made flatware. It's a good thing we won the Cold War when we did, because if this now counts as 'decadence' I'm not sure we'd be culturally equipped for it any more.
Posted by tino at 21:53 10.11.03