Urban Planning
Wal-Mart in Front Royal, and Town Elections
So on Tuesday there was an election here in Front Royal — or, I should say, there in Front Royal, since I don't actually live in the town.
The mayor and three town council members were voted out of office, and it's not much of a stretch to say that Wal-Mart was voted out of office, too.
Last summer, the big kerfuffle here was about whether a zoning variance — I think it was a zoning variance, I'm not entirely certain — should be approved to allow Wal-Mart to build a new store on the north end of town.
Now, rather unusually, the residents of Front Royal were (and are) generally in favor of having Wal-Mart move into town. I'm not sure whether this will be good for the town in the long run (eventually a town with the distinction of not having a Wal-Mart will in and of itself be a tourist attraction), but in the short term, at least, it would be very nice to be able to buy things without dealing with K-Mart or driving twenty miles.
I greatly admire Wal-Mart as a business and as a company, but their stores are just awful. On balance, we'd be much better off with the thing, though.
Wal-Mart wants to build their store on an incredibly ill-suited site, though, and last summer the town council approved this. Wal-Mart prefers this terrible site to the obviously superior one about a mile away because, they say, the other site is too rocky, and the site-preparation work would cost too much. This might be plausible but for the fact that their preferred site has about a 30-degree slope, presents serious ingress and egress problems for vehicles, is not visible from the Interstate highway, and is in a floodplain.
The 'too-rocky' site is relatively flat, next to a highway interchange, on a four-lane divided road, etc., etc. Wal-Mart is a very strange negotiator when it comes to store-siting issues. They are very persistent in attempting to build stores in places where there's a lot of opposition, because even in the most anti-Wal-Mart places there are enough potential customers for them to make money.
When Wal-Mart is welcomed, at least, they threaten to pull out at the drop of a hat as soon as anything doesn't go their way. This is what they've been doing in Front Royal: they say that if they can't build where they want, they'll take their Supercenter and go home, even though there's clearly a market for them here.
In this view, the actual suitable Wal-Mart sites are outlined in red. The site they want to build on is outlined in yellow: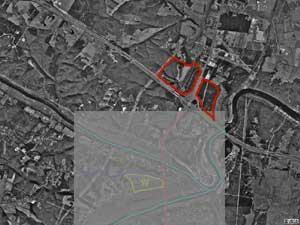 (See this page for better illustrations of the sites.)
The south-easternmost red site is now going to be occupied by a strip mall anchored by Lowe's. In today's Warren Sentinel, there was a story about the county turning down a request from Lowe's for a sales-tax kickback:
"It's not our job to subsidize a retail business to possible advantage over other retailers", [Warren County Board of Supervisors Chairman] Tony Carter later commented.
In Virginia, counties and towns are separate entities; Front Royal is completely surrounded by Warren County, and Warren County has its courthouse, offices, jail, etc. in Front Royal, but Front Royal is not part of Warren County.
The unsuitable-but-preferred-by-Wal-Mart site is in Front Royal; the other sites are in Warren County.
It occurs to me that the Front Royal officials may have been of a mind that it is their job to subsidize private businesses. I haven't seen any hint of this anywhere, so it's just speculation; but it certainly wouldn't be unusual for a town to offer tax kickbacks — let's be honest, that's what they are — to a big company that chose to do business in its jurisdiction, and this may well have influenced Wal-Mart's preference for the floodplain over the site next to the highway.
It is interesting that Wal-Mart, having got their zoning variance close to a year ago now, has not done any site-preparation work. Usually they break ground the day after any vote in their favor, so they can show specific harm if the town or county later changes its mind. Perhaps they were waiting for this election to see whether or not they'd be able to get tax concessions from the town.
Anyway, it will be even more interesting to see what happens now that the pro-Wal-Mart-in-the-floodplain officials are not longer in office.
Two Warren Sentinel stories about the election are reproduced 'below the fold', so to speak:
Incumbents swept out of office
Eastham defeats Tennett: Brooks, Darr, Grady take council seats
By ROGER BIANCHINI
The Warren Sentinel
Was it a public referendum on the Riverton Wal-Mart rezoning?
Yes, no or maybe depending on who you talked to in the wake of Tuesday's town election (see related story).
However, one thing is not in dispute - three incumbent councilmen and a mayor identified either as proponents or facilitators of that rezoning were voted out of office on Tuesday.
The reactions varied from ecstatic celebrations of victory by Save Our Gateway supporters of Stan Brooks, to quiet, philosophical acceptance of defeat by outgoing Mayor Robert L. Tennett Jr.
One common theme surfaced in the comments of both winners and losers Tuesday night - gratitude for a campaign conducted without much of the venom displayed during portions of last year's debate over the Wal-Mart Riverton rezoning request.
"I want to thank all of my volunteers and supporters, and I especially want to thank Mayor Tennett for his many years of service to Front Royal. We all owe him a debt of gratitude," said victorious mayoral candidate Jim Eastham.
"The people of Front Royal have spoken and I embrace their decision though it's not the one I was hoping for," Tennett said shortly after the final tally was announced around 9 p.m. "Throughout my many years of service as mayor and as a town councilman it has been my only wish that the voice of the people be heard and acted upon."
Tennett added his "heartiest congratulations" to Eastham, calling him a gentleman and a friend and adding, "I will do my part to assure that there is a smooth transition of power between my administration and his."
All the council candidates concurred that the campaign had been conducted with dignity and fairness.
However, perspectives on the result were somewhat divided.
"I believe the results are a clear message that the people are ready for a change and I am hopeful we'll be able to meet their expectations. I believe they want managed growth," said
Eileen Grady, adding, "I think other issues of concern are the budget, the growth of the town government and action on infrastructure improvements."
"From the outset the three [winning council] candidates and I tried to make this more than a referendum on Wal-Mart," Eastham concurred. "There are many other issues out there … such as town finances, planning and infrastructure that we all individually addressed as a part of our campaigns. Apparently the people responded to those issues, which will have an impact on Front Royal for years to come. And I am glad the voters were able to make this more than just a vote on Wal-Mart."
"I guess they played a better game than we did," said Hollis Tharpe, whose fourth-place finish was one place (and 114 votes) out of the money. "It's obviously disappointing to me that the incumbents were not reelected but I've had four good years on the council. But I am saddened by the fact that [the winners] may want to get rid of some employees who work very hard for this town." Tharpe declined to comment on whom he thought those employees might be.
Town Manager Rick Anzolut was the lone town official present Tuesday evening as results came in at County Registrar Carol Tobin's office in the Warren County Government Center. As the final Fork District precinct results showed a sweep from office of a mayor and half a council he has worked with since the last millennium, Anzolut was asked for a comment.
"I don't have anything to do with the election - I'm not running for anything, why would you want to quote me?" the town manager said with a good-natured smile.
Could election impact Wal-Mart rezoning?
By ROGER BIANCHINI
The Warren Sentinel
There was little dispute that the Front Royal Town Council's 2003 rezoning of the 121-acre Richards Estate to accommodate a socalled Wal-Mart "supercenter" weighed heavily on the public consciousness in yesterday's town election.
But exactly how that weight was distributed over yesterday's result and it's implication on that rezoning's future are much less clear.
Mayor-elect Jim Eastham and the three council challengers who displaced incumbents yesterday all expressed firm opposition to the Wal-Mart rezoning during the campaign.
Mayor Robert L. Tennett Jr. and incumbents E.D. "Dusty" McIntosh and Hollis Tharpe all supported the Wal-Mart rezoning while recused councilman Eugene Tewalt stood by his recusals and presence to facilitate a council vote on the matter.
Were those the deciding factors in the election?
"Absolutely, it played a strong part in the election," second place council finisher Tim Darr said.
"Not with that close a vote - no!" top incumbent vote getter Hollis Tharpe said in disagreement. Tharpe's 990 votes were 114 shy of thirdplace finish and reelection.
"I don't think it was a one issue election - there were a lot of things involved in that one issue," first-place council vote getter and former mayor Stan Brooks said of the Wal-Mart rezoning. "Such things as communicating with the public and being open minded, asking such things as how does this affect the Riverton community? So what I think the election was saying is that Front Royal believes in thinking about and planning its growth and not letting growth just happen to it.
"I think people accept that growth will come but they also want to be left with a community that is liveable," Brooks concluded.
"As for Wal-Mart, we [the election winners] all see a need to have a Wal-Mart in the community if we are ever going to become a regional shopping center," Mayor-elect Jim Eastham said. "But that site is not the best place for it. Their initial site north of Shenandoah Motors would be fine because it has the roads and infrastructure to support [such] a store now.
"I look forward to working with the new council in creating a new vision for the future, and charting a course to get us there," Eastham concluded.
"The community has spoken and together we can move on," Brooks added.
Was their election a mandate for a revisiting of the Richard's Estate rezoning?
"Yes! But I think the bigger mandate is about future growth," Eileen Grady said Tuesday. Reminded that legal challenges to the current council's rezoning decision scheduled to be heard in a 26th District Circuit Court in September still made Wal-Mart a "future" proposition for this community, Grady paused and added that if it is a legal option for council to revisit the rezoning, "I'd vote no [on the rezoning]. I don't have a problem with that."
"I don't know - it's a tough question," Tim Darr added.
Posted by tino at 17:57 6.05.04