Corporate Idiocy
Retail Pricing and Competition
Today we were in Staples, one of several indistinguishable big-box office-supply stores, stocking up on shrink-wrap and telephones. I'm rather hard on phones, in that I tend to reduce them to splinters occasionally following particularly contentious conversations with cable TV people, phone companies, banks, and other incompetents. I figure that replacing the phones every so often is cheaper than the costs of the therapy and blood-pressure medicine I'd need otherwise.
Anyway, so while we're there, we notice that they stock the Jabra BT200. The Jabra BT200 is a Bluetooth phone headset, and it looks like this: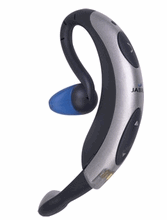 You hook the thing over your ear and you talk. That's it. I have a very similar one for my cell phone, and I love it. The only difference between the one I already have and the BT200 is that the BT200 can plug into any phone at all: it gives Bluetooth capabilities to any phone with a headset jack.
This being Staples, the product wasn't actually out on the sales floor; you had to take a little card up to the till.
This being Staples, the price for the product also wasn't out on the sales floor. We took the little card up to the counter along with our other items, and handed it over. A complicated process ensued, during which two of the four visible employees of the store rummaged around somewhere and turned up with the box, which was then scanned through the till so we could find out how much the thing cost.
It was $179.99, the same price that I now find on their website.
I immediately told 'em that I wasn't interested, because this price was absurd.
I expect to pay somewhat more for something in a physical store than I do online, but this was just silly; they were asking almost twice what the thing is available for online.
When I told them that I didn't want it at that price, they started arguing with me, and protesting to me about their '110% price guarantee', which says:
If you find a lower price, anywhere else on a new identical item, just show us the lower price when you buy the item at Staples or within 14 days of your Staples purchase — and we'll give you 110% of the difference.
However, their guarantee goes on to say:
We don't match our store prices to those on other companies' web sites.
Which effectively means that they only match advertised prices, since I can't point out a price on someone else's website and ask them to match that. They clearly don't want to match prices for products not offered in retail stores, but Office Depot, CompUSA (who incidentally also want $180 for the thing), Best Buy, and others sell things on their website and in their stores for the same prices.
And in any case, why shouldn't they match prices offered exclusively online? Because online prices are lower, that's why. They don't see themselves as competing with Joe-Bob's Online Warehouse of Bluetooth Headsets, and so they don't try. But the fact is that I can buy something just as easily from Joe-Bob as I can from Staples. Easier, really, in that I don't have to drive anywhere and deal with speedbump-filled parking lots and under-staffed tills.
And so I think it's time for another rule:
You are in competition with everyone selling the same thing.
You cannot, as a merchant, simply decide that you are not going to attempt to compete with someone because their costs are lower. It will not work, and you will go out of business.
Physical retailers have certain advantages that they can use to offset higher prices: for one, the customer pays nothing for shipping. This can be a substantial advantage if you compare the retailer's price to the online price plus overnight shipping — particularly when you consider that there's always the possibility that something might go wrong with the overnight shipping and that the customer might wind up paying a premium to get the thing a couple of days later. On the other hand, though, if you order something from an online seller in another state, you pay no sales tax; on a large purchase, this can be significant.
A general rule might be that you should try to sell something in a physical store for no more than 10% more than the prevailing online price. The retailer can make up at least some of the difference by selling at a premium things that people are particularly likely to need immediately: nobody is going to wait for UPS to show up in order to save a few bucks when they discover that they've run out of toilet paper.
Posted by tino at 16:34 27.06.04