General Idiocy
How a ballot-receipt shouldn't look
Cory Doctorow at BoingBoing gushes with praise for one of Wired's found objects from the future: a voting-machine receipt. The BB headline is 'How a ballot-receipt should look'.
Er, except that it identifies the voter, and that it gives the voter's 'lifetime electoral win/loss ratio', thus strongly suggesting that in Wired's future, secret ballots are a thing of the past: you can't calculate that batting average without maintaining a database, accessible to the voting machine, of how you've voted in the past.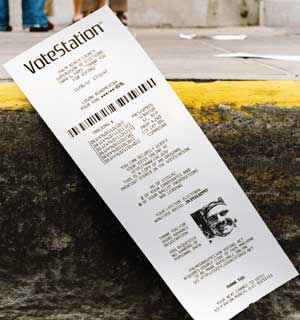 And on top of that, the receipt doesn't even directly show how you voted: there's just a tracking number for each of your votes, and a note that you can 'securely verify your votes online' — which means that we would be right back where we started.
It's an interesting thing, but if Doctorow really thinks that this is how the receipt should look, he should have his head examined. My guess is that he didn't look too closely at the thing.
Posted by tino at 18:48 10.11.04