Unpredictability
Unpredictability at McDonald's
I'm not talking about the unpredictability of 'how will they screw up my order today', but about what the heck it is that McDonald's serves in the first place.
McDonald's has been in a crisis of leadership for a while now, and this might be a symptom: but it is today impossible to walk into a McDonald's restaurant and tell what they serve. Most of the menu lists the various 'value meals' on offer, and a tiny portion on the side lists fries, etc. à la carte; but there's no mention at all on the menu of several of their fringe offerings, their fancy salads, breakfast burritos, etc., etc. The company is still spending the money to equip the restaurants to make this stuff; but it'll only be sold to people who are already aware that it's available.
What does McDonald's serve? Who knows. Does McDonald's A serve the same things as McDonald's B? Who knows. Ask the person behind the counter, and they likely won't know either, because they only started there yesterday.
Of course, I can really only say this definitively for the McDonald's near my house. Your McDonald's may be completely different: which possibility does not, I think, undermine my point. One of the main things on offer at McDonald's is consistency, and I haven't seen much of that there any time lately.
At a McDonald's on the Ohio Turnpike not long ago, NIcole and I got these orders of fries: one 'medium', and one 'large':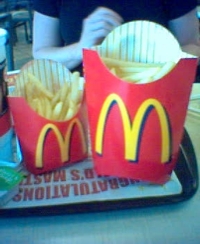 I think the 'large' did in fact have a few more fries than the 'medium', but both of them were obviously short. If this were much of an aberration, I wouldn't bring it up; but it's not unusual at all. I ask you: does this look like the product of a company with its act together?
Perhaps the purpose of the pared-down menus is to allow them to serve you anything at all. Without recourse to the menu board, you'll just have to eat it. And you'll have to like it, god damn it.
In the grand scheme of things, all of this is a small problem. But it's a big problem for McDonald's, should one of their competitors decide that they can take away some of McDonalds' business simply by making the process less stressful and annoying — and less unpredictable.
Posted by tino at 19:34 12.01.05