Random Interesting Thing
Cable Ad: Comfortmaker
Mike Shannon played right field and third base for the St. Louis Cardinals from 1962 to 1970, when he retired from baseball after being diagnosed with nephritis. From 1972 to the present, he has provided the color commentary for Cardinals games on the radio.
As a baseball player, he was good but not great. He only had a lifetime batting average of .255 in 2,780 at-bats, but he was born in St. Louis, never played for any team other than the Cardinals, and has never lived anywhere else. In St. Louis, this makes him something of a god: I do not think that this guy could manage to pay for his own drinks anywhere in town. Not that he should be drinking at all, what with his kidneys.
Anyway, his position makes him a natural pitchman in St. Louis for just about anything. In the 1980s, for some reason, this meant woodenly pitching residental HVAC equipment. You can tell he's a radio guy in this spot; his delivery is great, but he looks like he's been propped up with a 2x4. In my memory, at least, he's always that squinty.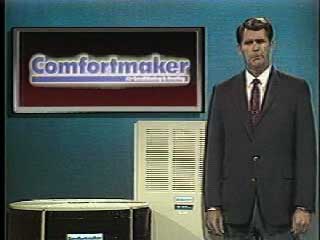 Comfortmaker, :30, 1.1mb Quicktime.
Posted by tino at 23:22 31.01.05