General Idiocy
Panic Now! We'll Tell You Why Later
This little promo spot perfectly lays out, I think, just why I loathe local TV news. It ran during The Simpsons on Sunday night. It's nothing new, but it's particularly shameless, even for Washington's local Fox affiliate — which is saying a lot.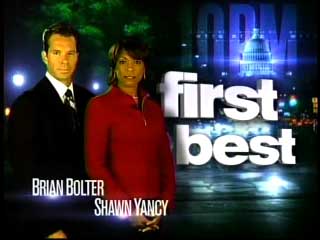 VO: In just five seconds, your child is at risk!

Woman: "It's horrifying! It's very scary!"

VO: And in just minutes, your child is a victim! Sexual predators and violent criminal are entering your home! Your kids know they're there, but they're keeping it a secret! The threat is real! Find out how you can stop it, Monday on Fox 5 News At Ten!
So: Your children are within seconds of being 'at risk', and within 'minutes' of being 'victims' of sexual predators and violent criminals.
And WTTG will tell us how we can stop it — in another twenty-seven hours.
Either they are just stirring the pot of Fear because they don't have the talent or intellect to do anything else, or they are horribly irresponsible. I do not understand how anyone with a modicum of self-respect can have anything whatever to do with local TV news, either on the production or the consumption side.
Undoubtedly this has something to do with THE INTERNET.
A Quicktime 6 version has been provided for people running Windows, for which there is no QT7 yet.
Your Child In Danger! (spot) 2.7mb, 0:19 Quicktime 7
Your Child In Danger! (spot) 3.7mb, 0:19 Quicktime 6

UPDATE 24 May 2005

Oh, the stuff I do for you, my public. I suffered through the Fox evening news last night, so you don't have to. The story: SEXUAL PREDATORS on the INTERNETS, of course, with 'investigators' with blurred-out faces.
At one point, the anonymous 'investigator' poses as a 13-year-old girl in a 'chat room' and attracts the attention of someone who says he's 18. Even though nothing sexual has gone on, the 'investigator' claims that the 18-year-old has already committed a crime by not leaving immediately upon discovering that this other person 'is' 13.
The story then cuts from an 18-year-old propositioning someone he thinks is five years younger, to a shot of kids who look to be about seven or eight years old. Wonderful.
Your Child In Danger! (full thing) 30.6mb, 5:46 Quicktime 7
Your Child In Danger! (full thing) 64.9mb, 5:46 Quicktime 6
Posted by tino at 16:19 23.05.05