Corporate Idiocy
Sell Your Gap Stock Now
The Gap has been struggling for weeks now with a bad re-implementation of its website. The site was down all together for most of the month, and while now it's 'up', that's being charitable.
Imagine you are using an Apple Macintosh computer, and further that you are using Safari, the only web browser that's shipped with the Mac. What do you think you're likely to see then?
Maybe this foghorn will answer your question: Wah-Waaahhh.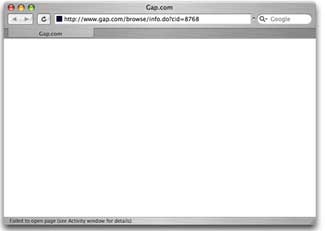 And what if you try to visit the website of Banana Republic, the Gap's 'upscale' store?
Wah-Waaahhh.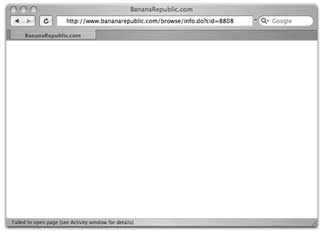 Both sites — they appear to be run from the same code — do a few pointless redirects, and then continue to reload the same script, forever. This movie shows what happens with the Gap, and this very similar movie shows bananarepublic.com in 'action'.
The sites appear to work fine in Internet Explorer on Windows, and in Firefox on both Windows and the Mac. Still, though: you would think that after a long outage officially for the purpose of 'updating our site with innovative new features' to bring me 'an extraordinary shopping experience', they'd be able to, if not get it right, at least not get it so incredibly wrong.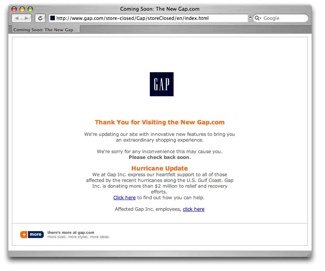 I will say one thing: this is an 'extraordinary' shopping experience, in that most stores, whether online or in the real world, tend to do everything they can to attract as many customers as possible.
What makes this so annoying is that there's no reason for it. There are a lot of things that don't work on the Macintosh, even if you only consider web things. Google Maps didn't work on Safari at first, and even today it's much slower and crappier on Safari than on Internet Explorer for Windows. Ditto for Gmail.
These were because of genuine challenges, because of differences in the way certain things are implemented in Safari and in other web browsers.
In the case of the Gap, though, it's entirely because of a stupid bug in their software. The Gap's website attempts to detect what browser you are using, and to vary the content based on this.
There's a bug in this code, though, and if you're using Safari you wind up getting thrown into the endless loop.
But it's possible to tell Safari to identify itself to web servers as Internet Explorer running on Windows: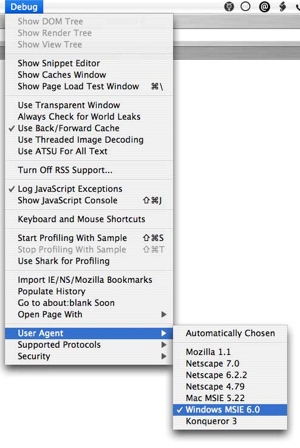 And if you do this, the site happily loads, and it appears to work just fine:
In other words, because the rocket scientists Gap hired to build this thing are doing something they don't need to do and doing it badly, the site is inaccessible to anywhere to people who use the most popular web browser on the Macintosh.
It's pointless to argue about the Mac's market share; either it's 1.8%, or 2.5%, or 4.5%, or 16%. In any case, the average Mac user is wealthier (not to mention better looking) than the average Windows user, and Macs are less likely to be in use behind corporate firewalls that block things like online-shopping websites. All those Windows PCs at the Bank of America are part of Windows' 'market share', but the tellers can't order their Wide Leg Ultra Low Rise Flare Pants from there.
And, remember: whatever they're actually doing here is not something that needs doing; it's sheer incompetence that's behind this failure. I sure hope that the Gap isn't paying these developers a lot — but experience tells me that they probably are.
Posted by tino at 23:39 4.10.05