Urban Planning
Central Planning In Maryland
"We're suffering from our success as a great community," Floreen said. "Our real estate prices are out of sight."
That's Montgomery County (MD) council member Nancy Floreen, quoted in a Washington Post story about a new proposal to do something about Montgomery County's lack of 'affordable housing'.
Montgomery County is a victim of its own success, Ms. Floreen says. That's an interesting way to look at it.
To begin to understand the problem, please consider this map. Clicking on it will pop up a (much) bigger version: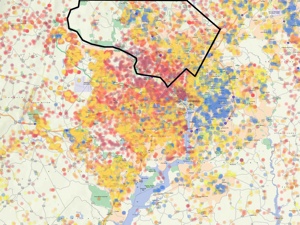 This is a map of all the properties listed in the Washington, DC multiple listing service on August 20, 2005, plotted by location and colored by price. The colors run, from least to most expensive: blue, green, light yellow, dark yellow, orange, red, purple. The exact values vary from map to map, but on this one, they are:
Color
Minimum
Price
Maximum
Price
Blue
$0
$341,000
Green
$341,000
$441,000
Light yellow
$441,000
$551,000
Dark yellow
$551,000
$649,000
Orange
$649,000
$748,500
Red
$748,500
$1,501,000
Purple
$1,501,000
Montgomery County, Maryland is outlined in black. The county actually extends pretty far north, off the map; about 60% of it is shown here.
But even seeing only this part of the county, it's clear what's going on: Montgomery County is not so much the 'victim of its own success' as it is the victim of the fact that it's illegal to build anything in half the county. Half the county is protected farmland, through which it's impossible to build a badly-needed road. The lack of a road and bridge connecting the outlying Virginia suburbs (and Dulles Airport) to northern Montgomery County limits where you can effectively commute from if you work in the county; that demand, and the fact that nothing can be built in half the county, push up real estate prices.
If your goal is to inflate the price of your real estate, I heartily suggest that you hire Montgomery County planners as consultants. They have done a very good job.
But the constant complaining out of Montgomery County seems to suggest that their actual goal isn't to inflate real estate prices. At the moment, the crisis seems to be that police officers, firefighters, and teachers — of which Montgomery County has many — can't afford to live there.
The Montgomery County Council will consider a proposal today to require that 10 percent of homes built in new developments near Metro stations be set aside for middle-class families being priced out of the county's soaring real estate market.

[…]

Such a program would be geared toward county employees — including teachers, firefighters, police officers and nurses who make too much to qualify for Montgomery's affordable-housing program but not enough to buy a house or condominium at market rate, [Council Member Steven A.] Silverman said.
Silverman is expected to run for county executive in 2006.
One of his probable opponents in the Democratic primary, former County Council member Isiah Leggett, has called Silverman's solution inadequate to meet middle-class housing needs. Leggett, instead, backs a more intensive approach: building entire housing developments with the majority of homes set aside for middle-class families.
Housing projects. For the middle class. This is what it's come to, in Montgomery County.
I cannot help but notice that middle-class people (in this case, people making up to $100,000 a year, so genuinely middle-class) in the United States generally have no problems finding and buying the things they need on the open market. Cars, clothing, food, globe-trotting vacations: quite a large fraction of the world's industrial output is dedicated to meeting the needs of middle-class Americans.
But they can't afford to live in Montgomery County, Maryland, because the county has variously restricted where you can build; what you can build; how you can build; and who you can sell to. New residential construction in the county has to have sprinklers throughout; new developments have to have 12.5% of their units set aside for the county's existing affordable-housing program; and at the moment, you are not allowed to start any new construction in the county thanks to a permit moratorium enacted this summer.
In Chevy Chase, there's a separate six-month town moratorium on construction, intended to fight what they call 'mansionization'. They don't want mansions in Chevy Chase: they apparently want just what they already have: million-dollar three-bedroom bungalows.
This, ladies and gentlemen, is 'success', as in 'being a victim of success'. Because certainly those sprinkler systems, and the costs incurred by builders when they're hit with unannounced moratoria, and the cost of leaving half the county's land empty are borne by someone else, and not the hapless would-be Montgomery County resident.
So the proposal, to further correct this housing shortage that arises out of the county's interference, is, of course, more county interference. Already, if you make less than 70% of the median income, you qualify for Montgomery County's bureaucratic affordable-housing program, where builders are required to build housing that is rented or sold at below-market rates in exchange for being allowed to build anything at all.
Now, the proposal is to force builders to subsidize another class of housing, this to be rented or sold at below-market prices to people based partly on their income but also on whether they work for the county.
This means that the county can continue to pay these people wages that do not allow them to live in the county, but that the county can nevertheless increase these people's effective compensation by requiring builders to pay part of the teachers', firefighters', and cops' salaries in the form of subsidized housing.
The beauty of this scheme is that the builders will have no choice but to raise prices on the housing that they are allowed to sell at market rates. If — to use an extreme example — the county required builders to give away 20 houses for every 80 they were allowed to sell, those 80 would have to be sold for 120% of the price they'd otherwise sell for. This would price them out of the reach of more people, who would then clamor for someone to subsidize housing for them. Essentially, the county is supporting its housing subsidies through a hidden tax on all unsubsidized housing in the county; this tax, in turn, increases the demand for subsidized housing and thus the power of the county in granting 'relief' from the pain that they are themselves inflicting.
Who will be next? Which group of people will be the next to be priced out of Montgomery County's 'open'-market housing and to petition the county for relief? My money is on retail workers.
Posted by tino at 17:35 11.10.05