Random Interesting Thing
Sunday-Morning Lumberjacking
Saturday night we came home in the sleet to find that two large trees had fallen across the bottom of our driveway. This isn't particularly unusual, as what we have here isn't so much soil as it is rocks with tiny bits of humus between them here and there. An 80-foot tree might have a root ball that's about four feet across.
When it rains a lot, as it did last weekend, the 'soil' softens, and down go the trees.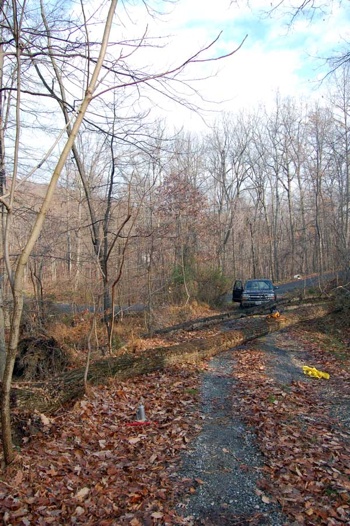 In this case, a mostly-dead tree fell over — that's the one closer to the camera — and it knocked over a healthy one (or a mostly living any much, much harder and heavier one, anyway) on its way down. What was truly unusual was that neither of these took out the power or phone lines. Had they fallen straight across the driveway instead of diagonally, we'd still be running off the generator tonight.
As it was, it took us about an hour to saw the things into pieces small enough to be moved off the driveway. Before too long, we'll have to move those pieces somewhere else so they don't kill the grass.
Posted by tino at 23:44 4.12.05