Corporate Idiocy
Corporate Trickery
So tonight I bought some inkjet photo paper, as part of my whole cheesy homemade-Christmas-gifts scheme. Office Depot sells a lot of own-brand paper at prices much lower than the HP, Xerox, etc. stuff. I bought, among other things, a 100-sheet box of 4x6 paper: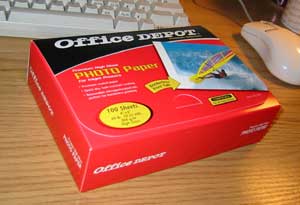 When you open it, you discover that half the space in the box is taken up with a massive wad of cardboard: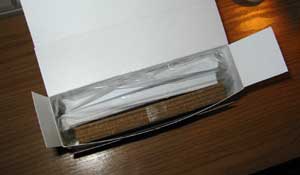 I suspected this when I bought the stuff, as the box's weight and volume seemed to be out of sync. The box does contain 100 sheets of paper, just as it says on the outside, so Office Depot's tactics are not in any way fraud. But it seems to me that selling boxes half-full of dunnage is likely to gain you sales only once, and subsequently to backfire on the seller.
The impressive size of the Office Depot box probably had something to do with my decision to buy it, but in the future I'll be more likely to consider that Office Depot's store-brand managers are not above subterfuge to move their product.
Meaningless inflation of the box's volume is a bit of deception that does no harm to the customer — but, now that they've accepted deception as a practice, how long will it be before they decide that deception is the wave of the future? I prefer people who deal honestly, if only because you can generally trust them not to cheat you, rather than having to personally be on guard all the time.
Posted by tino at 18:23 17.12.02