Random Interesting Thing
Before and After
Do these pictures of Khalid Shaikh Mohammed, pre- and post-arrest, remind anyone else of the pictures of the Leader of the Movementarians, before and after the cult bought KBBL TV?
Before: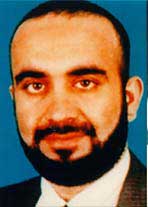 After:

This is the guy that Time magazine describes as
al-Qaeda's agent 007: suave, well educated, a trilingual globe-trotter who mixed easily in other cultures, who engaged women and intrigue with savoir faire and deadly expertise.
And people wonder why there haven't been more attacks. Even Roger Moore stood up better under pressure.
Posted by tino at 23:50 2.03.03

This entry's TrackBack URL::
http://tinotopia.com/cgi-bin/mt3/tinotopia-tb.pl/90
Links to weblogs that reference
'Before and After'
from
Tinotopia
.