Urban Planning
Suburban Addresses
The other night, the lovely & talented Nicole and I ate at Sweetwater Tavern, one of a small chain of quasi-upscale semi-'western' themed restaurants.
I say 'quasi-upscale' because there's nothing particularly fancy about the food, the service, or the decor: it's just that nothing is horrible. There's adequate staff to handle the volume of business, the food is tasty and arrives hot, and there are no fluorescent lights in the place. I consider this the bare minimum for operating a restaurant: unfortunately the restaurant industry seems to consider this quite a luxurious experience.
Anyway, so we went to Sweetwater Tavern, and we encountered these strange flyers touting a favorable review of the place from the Washington Post.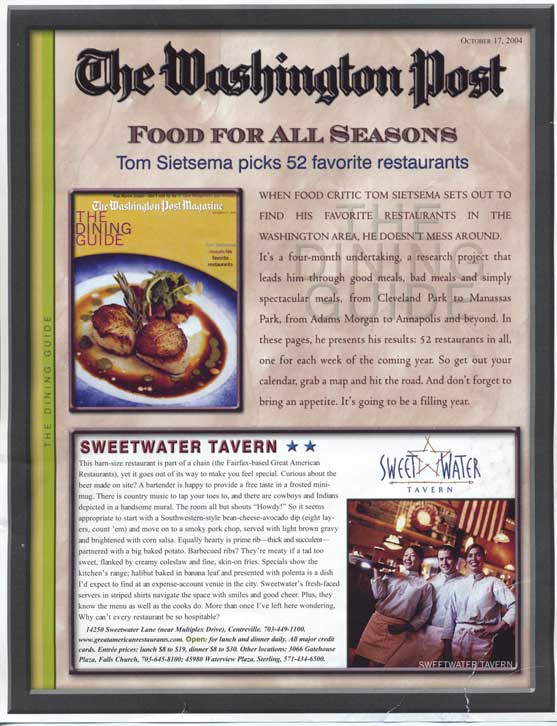 I say that these flyers were 'strange' because we were already there. We'd been sold. At this point our opinion of the place would be formed largely by our own experience, not a review from the Post.
Anyway, what was particularly interesting about the flyer was the way the Post described the location of the location we were at:

I'd never realized the address of the place before: 14250 Sweetwater Lane. And if that wasn't helpful, it's near Multiplex Drive. In other words, it's in the Sweetwater parking lot, near the movie theater. This is helpful if you're lost in the maze of strip malls that surrounds the restaurant, but utterly useless if you are looking for it from, say, anywhere else. 'Off Route 28 just south of I-66' would be helpful. But no, this is the suburbs, and so everything's address reflects its position not relative to any street you might be familiar with, but rather to its own parking lot.
The other two locations aren't on other Sweetwater Lanes — though really it wouldn't be surprising to find a place declaring its parking lot a street and naming multiple ones the same thing in the same area — but rather on 'Gatehouse Plaza' and 'Waterview Plaza'. Waterview Plaza is just off Leesburg Pike west of Cascades Parkway (i.e. right about here), and 'Gatehouse Plaza' is at the intersection of Gallows Road and Arlington Boulevard — two major thoroughfares. Anyone vaguely familiar with the area could find a place described as 'at Gallows and Arlington' or 'On Route 50 just west of the Beltway'.
We don't get this, though: instead we get parking lots named as streets, and five-digit addresses thereon.
Posted by tino at 15:12 28.01.05