Random Interesting Thing
More From The Video Vault
If you're an ATV dealer and you can somehow prove that Yamaha does not have the best ATVs on the market, Gary Surdyke will give your wife a thousand dollars. Or at least he would in the late 80s, when this local-cable ad was produced.
I recently found a whole 60-minute 3/4-inch tape of old local tv spots, so you may as well resign yourself to seeing a lot of them.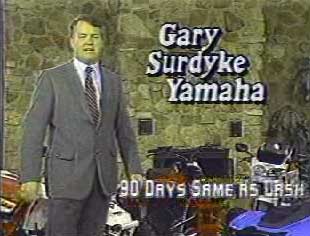 Gary Surdyke Yamaha, :30, 1.1mb Quicktime.
Posted by tino at 12:57 29.01.05