Random Interesting Thing
Cable TV Ad: Frederic Roofing
Every city or any size has at least one company like Frederic Roofing. I don't mean that in the sense that every city has an outfit that will put a roof on your house or your place of business, though that's certainly true, too.
I mean every city has at least one company with a horrible jingle that everyone in town knows. If you know anyone from St. Louis, you might sing to them: "For a hole in your roof, or a whole new roof" and they'll respond "Frederic Roofing!"
Either that or they'll look at you like you're insane. If they do that, though, you'll at least have gained the knowledge that your friend either:
A. grew up without a television or radio, and was forbidden to ever watch anyone else's TV or listen to anyone else's radio, or
B. is not from St. Louis at all. Check to see whether your friend speaks Russian, or is from Remulac (a small town in France).
This one is pretty typical of the Frederic Roofing TV oeuvre, misaligned and badly-lit card and all. They are still using the same jingle — the same recording of the same jingle — in their current ads, and I don't even think they've added the area code to the phone number.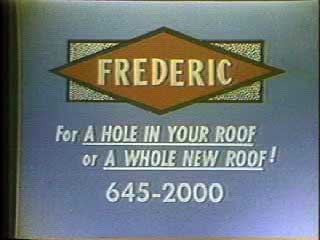 Frederic Roofing, :30, 1.1mb Quicktime.
Posted by tino at 21:51 2.02.05