Random Interesting Thing
Hepp's Run-In With The Police
Carl Hepp was, once upon a time, something of a celebrity among the people — both of 'em — who watched public-access and local-origination TV in St. Louis. (Note that public access and local origination were different things, and that when people talk about 'public access' TV they usually mean 'local origination'.) His twice-weekly hours-long call-in talk show, I'm Hepp, was once voted the second-best local talk show in St. Louis, after a professionally-produced roundtable show on the local PBS station.
Anyway, Carl had a lot more in him than just a talk show. Some people would say that, whatever it was that Carl had in him, it was about the size of a Volkswagen. For some reason, on TV he looked to be about the size and shape of Jabba the Hutt. In reality, he was just well-padded.
One of his attempts to take public access in strange new directions was provisionally called 'Répété' (or possibly 'Répéter'; I never saw it written down). I'm not sure what the show was supposed to be about, but as the title means 'repeat' in French, we can assume it would have been repetitive. Hepp's friend André Courtois was to be involved in this some way, and I think the general idea was to juxtapose jarring footage of random things with dissonant jazz. I have no idea why I think that; it might just be an impression I formed out of nothing.
I don't think that the show ever made it to the air; Carl always had a lot of balls in the air, and this project might have slipped through the cracks when something else demanded too much of his time.
What I present here is an outtake from one of the taping sessions for 'Répété', wherein Carl was filming the feet of people entering and leaving a store on Cherokee Street in St. Louis. Not long after he showed up in his battered pickup truck filled with video equipment, someone called the police and reported him as being suspicious: God bless South St. Louis. The clip below is of the conversation with the cop who responded.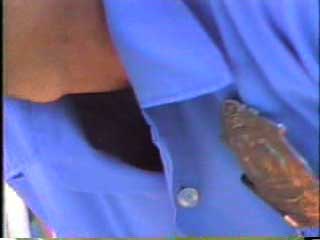 Outtake from Répété, 2:09, 4.7 mb Quicktime.
Posted by tino at 16:07 6.02.05