General Idiocy
Bad, Bad Signage
This is a gas pump at the Exxon station near Tino Manor. Click on the picture to pop up a bigger version: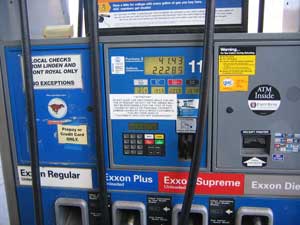 I count over 300 words in the picture — and that's leaving out the stuff off the top and bottom of the frame, not counting the lettering that's too small to make out in the photo, and not counting all the messages that appear on the 32-character, scrolling, all-caps LCD display. There's also a speaker though which the attendant can make squawking noises at you should you somehow require information on a topic that's not already covered by one or more of the stickers.
Incidentally, at the far right of the frame are a number of miniature credit cards, assuring you that you can pay for your gas with, among other things, a Diner's Club card, or Carte Blanche, or a number of credit cards I've never even heard of, or a JCB card. Except them in even smaller type you are informed that "JCB card may not be accepted at all pumps". Does this mean that this pump accepts JCB, but that this should not be construed to mean that all Exxon pumps accept JCB? Or does it mean that some Exxon pumps, a class which may or may not include this pump, accept JCB?
Since this sign is actually, you know, on a gas pump, the JCB user is probably interested in knowing whether it's accepted at this particular pump (and he's probably interested in getting that information in Japanese, but that's another issue). The other millions of Exxon pumps in the world are not important right now. Perhaps the Exxon people could write up a nice 500-word essay on the matter and stick that on the pump next to the picture of the glowering state trooper.
The largest and most-noticeable signs, though, are the ones about their check policy (?!) and their terribly agrammatic (not to mention hopeful) notice about the auto-shutoff feature of the pump:
**ATTENTION**

DO NOT LEAVE CAR UNATTENDED WHILE FUELING
-THE ATTENDANT ON DUTY OR THE OWNER WILL
NOT BE RESPONSIBLE FOR THE COST OF FUEL
CAUSED BY SPILLS OR PERSONAL PROPERTY
DAMAGE CAUSED BY SPILLS WHILE CUSTOMER IS
FUELING THEIR VEHICLE
***AUTOMATIC SHUT-OFF NOT GUARANTEED***
This is the public face of one of the world's largest companies: we do not have faith in the proper operation of the equipment with which we daily transfer thousands of gallons of highly volatile and flammable liquids. And we will inform you of this fact in a confusing and agrammatical way. And we will emphasize particular points by **surrounding them with asterisks**. It's almost as if they expected the stickers to come equipped with Markdown.
Posted by tino at 11:48 15.02.05