Random Interesting Thing
Fun In The Snow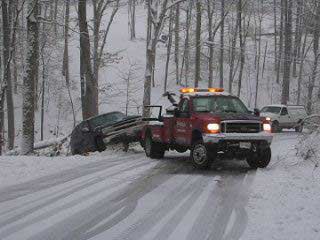 At about 4 p.m. today, we realized that we were out of bread, and that we'd have to head into town or do without sandwiches: so out in the snow we went. On our way down the hill, we were delayed for a while by a tow truck that was pulling one of our neighbors out of the ditch.
The tow truck actually started out facing forward in our lane, i.e. straight but on the right-hand side of the road as you look at it in the picture. While it was trying to winch the truck out of the ditch, the back end was pulled around to the position you see here. At one point, either one of the cables broke or one of the tow hooks on the Tahoe let go, with a big BANG and flying debris.
In the end, though, the truck didn't appear to be much the worse for wear, and they drove it away.
Snow Truck, :30, 1.1mb Quicktime.
Posted by tino at 21:22 28.02.05

This entry's TrackBack URL::
http://tinotopia.com/cgi-bin/mt3/tinotopia-tb.pl/403
Links to weblogs that reference
'Fun In The Snow'
from
Tinotopia
.