Cultural Note
Pain Was Too Good For Him?
Last night, I was killing some time in Barnes & Noble; specifically, I was browsing through the ever-growing section of the store dedicated to things that are not really what I would call books.
Barnes & Noble now has a substantial section of their floor given over to desk accessories, greeting cards, fancy paper clips, and all kinds of other stuff that's really better purchased from Levenger. The nucleus of this — and the connection to books in the first place — is the amazing selection of blank books, address books, diary books, and notepads, each of them with very little or no 'content' and most of them with ISBNs.
Anyway, among the things that caught my eye were a number of notepads, address books, etc. that are part of the 'They Hated To Spread Gossip' line, illustrated with collages by Anne Taintor. I took some pictures there with my cameraphone, but cameraphones being what they are, I looked for, and found, better images of a couple of the collages on the Anne Taintor website. Clicking on these images will pop up bigger versions: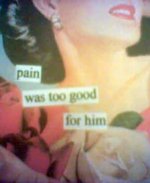 'Pain was too good for him' (detail via phonecam)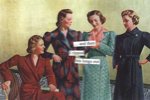 'And then I ripped his lungs out'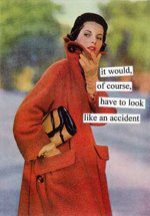 'It would, of course, have to look like an accident': the general theme of women vs. men suggests what she's thinking of.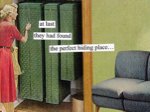 'At last they had found the perfect hiding place': also potentially innocent unless you look at it in the context of the less-ambiguous messages it was bound with.
Imagine, just for a moment, that the same art was produced, but with the genders reversed: a group of men standing around smiling, with the caption indicating that one of the people in the picture was saying 'and then I ripped her lungs out'. It would be denounced not just as being in bad taste, but of being grossly offensive, of being a hate crime even.
There are some vaguely similar things, to be sure, with women as the butt of the joke. At the moment, Google lists 5,720 results if you search for reasons why a beer is better than a woman ('A beer doesn't get jealous when you grab another beer' huh-huh-huh-huh-huh). I am sure that, in many truck stops across this land, you can buy 'clever' caps with wisdom about the nature of women printed on the front in puffy letters. And Ms. Taintor's own work also includes a lot of things that reflect badly on women, playing on their alleged sensitivities about their age and on their stereotypical propensity for shopping.
However, I can't remember the last time I saw something in a middle-class, suburban, cultural-mainstream environment — like Barnes & Noble or the shopping mall — that actually advocated or in any case drew mirth from the idea of violence against women. (See also this.)
But these images are themselves a kind of violence against women. Not only couldn't you sell 'smack my bitch up' postcards at Barnes & Noble, you couldn't sell a whole class of similar products featuring other Victim Groups instead of women.
'And then I ripped honkey's lungs out', with a picture of smiling black people: you'd have the NAACP on your ass in about five minutes.
'Pain was too good for the gringo', with a picture of a smiling Mexican: the National Council of La Raza would organize a boycott.
If you published an image of a Jew with text indicating that he'd like to do some violence to Nazis, the B'nai Brith would make noise about how awful you were.
But ordinary women ripping out lungs, making things look like 'accidents', etc.: ha ha ha ha ha. How droll. Presumably Ms. Taintor thinks she's subverting the image of middle-class femininity, but she's really just perpetuating the stereotype of woman as vindictive hussy (when she's not perpetuating the stereotype of woman as shallow consumer or bitter hag).
Posted by tino at 14:14 2.03.05