General Idiocy
Paper Spam
Yesterday, this envelope turned up in the mail here at Tino Manor: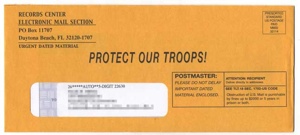 Click on the picture to see a larger version.
As wealthy and good-looking as we are here, we get a lot of junk mail; a lot. I believe that the idea is that our lifestyle is so enviable that other people, seeing us using a particular brand of medicated lip balm, or stink-preventing shoe pads, would immediately rush out and switch brands. Either that, or some database somewhere has us listed as easy marks, and marks who actually pay their bills, too.
Anyway, so this thing turns up, and I immediately spot it as spam. The difference between physical spam and junk mail is that junk mail is something you don't particularly want: today's catalog from Pottery Barn, for instance (they send out about five a week), or a come-on inviting you to spend $900,000 on a vacation house in a 'luxury resort community' somewhere in North Carolina (no lie, such a thing showed up last week). Junk mail is advertising for something you are not particularly interested in buying.
Physical spam is junk mail that attempts to trick you into opening it. The credit-card people have gone in big for the fake-card-in-the-plain-envelope approach; I have to open all of these things to make sure it's not an actual card (most of those cards also make good frost-scrapers, though recently a lot of the cheaper companies have switched to some kind of pasteboard thing, which is useless except for propping up uneven table legs).
This envelope employs the popular technique of trying to look like correspondence from the government. This one caught my eye because it says 'PROTECT OUR TROOPS!' in big letters on the front — so they are exploiting the war to promote their business. This is what first caught my eye, since I thought that it was a particularly cynical move. Exactly *how* cynical, I had no idea: there's no mention of the war, or troops, or anything else except the sale of bargain-priced used cars inside. I was expecting a donation of a nickel to the DAV or something for each car sold; but no, it's just the envelope. I can't decide whether this is better, or worse.
Like most e-mail spammers, the senders reveal themselves to be idiots in smaller ways, too. The complete government-correspondance look requires threatening you with prison before you even open the envelope, and to this end most paper spammers make reference to postal regulations. In this case, the law they refer to is:
Whoever takes any letter, postal card, or package out of any post office or any authorized depository for mail matter, or from any letter or mail carrier, or which has been in any post office or authorized depository, or in the custody of any letter or mail carrier, before it has been delivered to the person to whom it was directed, with design to obstruct the correspondence, or to pry into the business or secrets of another, or opens, secretes, embezzles, or destroys the same, shall be fined under this title or imprisoned not more than five years, or both.
This is Title 18, Section 1702 of the United States Code; it basically says that you're not allowed to steal mail.
On the envelope, though, they refer to 'TLT.18'; 'tlt' is not an abbreviation for 'title'. The error, though, makes it easy to identify where this envelope came from: On-Target Direct Marketing. A number of their envelopes use 'TLT 18' to threaten would-be customers. On-Target Direct appears to just handle the logistics: a quick Google search suggests that the promotion itself is run by an outfit called RPM Communications, which appears to be unaffiliated.
Inside the envelope, there's a flyer for the promotion and a scratch-off card; 'if' the numbers on the scratch-off card match, you win an amount ranging from $5 to $50,000. Everyone, of course, 'wins' at least $5 just for coming in to the dealer with the papers; that's the whole idea of the promotion.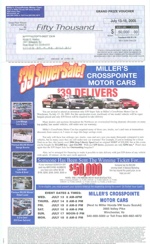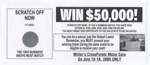 And it would appear that, in 2003, at least one person won the $50,000. One George Bouche is pictured on the flyer, and there's a web page here that would seem to indicate that he's a real person who really did win; an article here further backs it up. I was not able to track down any information on 'Robert Lewis', the other winner mentioned, but I don't doubt that he's real, too: it's just that 'Robert Lewis' is a much more common name that 'George Bouche' — except in France, where they're always talking about 'George Bouche, ze eempirialist warmongair'.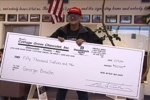 How long can this work, though? In the electronic world, eBay has recently moved to communicating with its customers exclusively on their website in order to fight the people who send me a dozen eBay phishing attempts a day. Certainly by now nearly everyone with two neurons to rub together has figured out that 99.9% of the brown-paper envelopes they get with threats on the front are not from the government. These promotions undoubtedly draw people in with the promise of having won 'at least' $5, but the fact that the envelope doesn't say 'You May Already Be A WINNER!!!!1' on the front shows that people do catch on, sooner or later.
Posted by tino at 12:46 12.07.05