General Idiocy
Paper Spam, Part 2
No sooner had I written my previous complaint about deceptive practices in direct-mail advertising than does my man Hedges bring in the mail, which included this: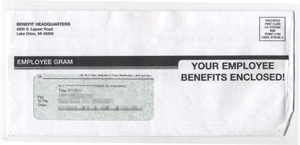 Note they get the double whammy: in addition to having 'EMPLOYEE BENEFITS' in 30-point type on the envelope, they've cleverly sized the window on the envelope so 'Pay To The Order' appears there. Huh, huh, lookee Maw, a check! I know this is a scam right off the bat, because I'm not anyone's employee. But, honestly, if you're so dumb as to not be able to see through this anyway, you're probably unemployable in the first place.
I don't imagine that anyone appreciates advertising that openly takes the would-be customer for a fool. I certainly don't.
Inside: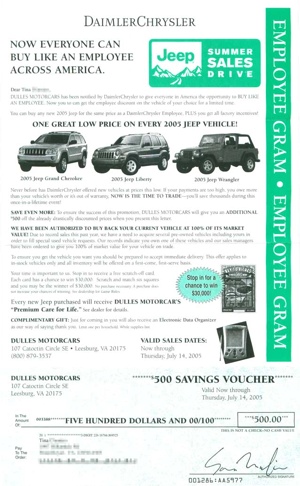 (Click on the image for a bigger version)
NOW EVERYONE CAN BUY LIKE AN EMPLOYEE ACROSS AMERICA
I think what they mean is 'Now everyone across America can buy like an employee (of DaimlerChrysler)'.
Further down:
Never before have DaimlerChrysler offered new vehicles at prices this low.
Hmm:

Though I suppose that's not DaimlerChrysler, so they're not actually lying.
If your payments are too high, you own more than your vehicle's worth or it's out of warranty, NOW IS THE TIME TO TRADE - - - you'll save thousands during this once-in-a-lifetime event!
If you're struggling to make car payments or if you own more on your car than it's worth: don't buy another goddamned car, you idiot. Half the ads on TV these days are for schemes to 'get out from under your debt' by borrowing more money, so I don't know why I'm surprised.
WE HAVE BEEN AUTHORIZED TO BUY BACK YOUR CURRENT VEHICLE AT 100% OF ITS MARKET VALUE!
By definition, everything is bought and sold at 100% of its market value.
Due to record sales this past year
And these 'record sales' would be the reason I get so many desperate and cheesy come-ons in the mail from car dealers
we have a need to acquire several pre-owned vehicles including yours in order to fill special used vehicle requests. Our records indicate you own one of these vehicles
Would that be the fifteen-year-old Jeep, I wonder, or the forty-year-old Austin? Or maybe another of the dentmobiles littering the Motor Court here at Tino Manor.
and our sales managers have been ordered
Ordered! Maybe these sales managers need some Employee Benefits of their own.
to give you 100% of market value for your vehicle on trade.
Well, not giving me '100% of market value' would really constitute auto theft, so there might not be as much magnanimity behind this as they'd like me to perceive.
Posted by tino at 20:35 12.07.05