Corporate Idiocy
When Marketing Takes Over
I saw this sticker inside a household freezer door this weekend: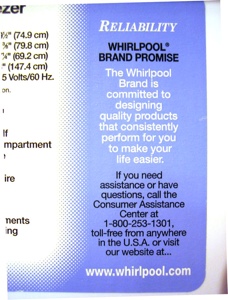 Note the wording:
The Whirlpool Brand is committed to designing quality products that consistently perform for you to make your life easier
Er, no. The Whirlpool brand is a wholly conceptual and imaginary thing, dreamt up and managed by the marketing department.
This makes as much sense as saying, 'The Coca-Cola Dynamic Ribbon Device is refreshing as hell', or 'Reddy Kilowatt keeps your lights on!' The D.R.D. and Mr. Kilowatt do nothing of the sort. They are merely marketing tools.
The Whirlpool Company — which is to say a group of people — are committed to designing etc., etc.
Unfortunately, their communications to the outside world seem to be run by the marketing department, which sees things exclusively through the lens of their own work.
Posted by tino at 17:20 19.07.05