Technology
Installing iTunes
A new version of iTunes is out, and I'm trying to install it. However: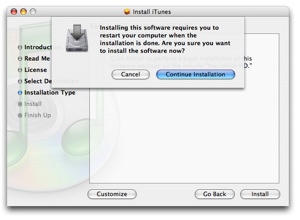 I've got two questions:
1. Why, oh why on Earth do I need to reboot to install a freaking music player? The Macintosh gets more like Windows with each passing day.
2. So we'll assume that it's absolutely necessary for me to reboot: fine. I can't really imagine why this should be, but for the moment we'll assume that it is. (In this case, it's because iTunes wants to install the iTunes Phone driver (more about that phone later), which is inexplicably tied into the kernel somehow.) This is idiotic enough on its own, but why do you not inform me of this until after I have:
Opened the installer package
Clicked through the useless 'Introduction'
Agreed to allow the installer to 'run a program that determines if this package can be installed'
Clicked through the useless 'Read Me'
Clicked through the license
And then been asked whether I agree to the license
Selected the one and only disk on this computer as the installation target
Clicked on the 'Install' button
Been asked for my password
I do a lot of things with my computer. Here's what I have open at the moment: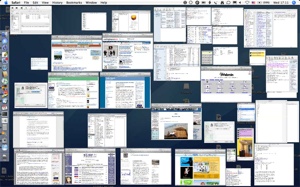 I'm not about to reboot and have to get all that stuff set up again — it would take me the better part of an hour just to tidy things up to the point where I could close it all without losing track of what I'm working on. I had a few minutes available, and I thought I'd install the new iTunes: but after going through nine steps, I am informed that installing the thing won't take a few minutes, but a couple of hours. Apple, the makers of user-friendly computers!
I suppose they still have breathing room, though: it's only recently that the default Windows program installation didn't involve having a giant window cover your entire screen for the duration of the install process.
Posted by tino at 15:47 7.09.05