Technology
Installing iTunes, Part 2
Adding insult to injury, after you install iTunes (having gone through the ten steps of the installation process, and after having had to click two separate buttons to deal with agreeing to the license), you are again required to agree to the software license.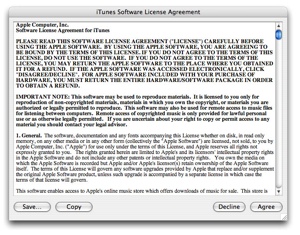 In the grand scheme of things this isn't a big deal.
Hell, it's not even a big deal in the scheme of things that happened to Tino today. They were out of ketchup at McDonald's, and they gave me the wrong salad dressing; the paint we chose for the living room looks kind of dingy there, so we need to pick a different color; one of the painters was sick today, so the whole painting thing is going to take longer than anticipated.
All of those things are more inconvenient than having to click on eleven separate things to communicate a single intent (i.e. 'Install iTunes, you!') to the computer.
But then McDonald's doesn't base its whole value proposition around being compenent; my painter doesn't hold himself out as the world's healthiest man; and Sherwin-Williams is not all about 'White Hyacinth' paint looking good in my living room.
Apple, on the other hand, is all about computer systems that are not unnecessarily complicated. Or at least that's still the marketing message.
Posted by tino at 18:50 7.09.05