Random Interesting Thing
Yo Ho Ho
This is possibly the Worst Thing Ever. Now available at Big Lots for only $39.99: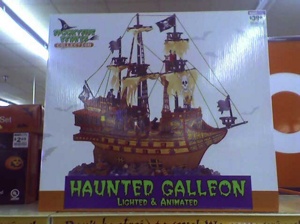 It's the Haunted Galleon lighted & animated cheap plastic thing.
The little ship rocks back and forth on its plastic waves, to the soothing sound of grinding and gnashing plastic gears. Little red LEDs in the cannons blink on and off; presumably this represents the cannon firing. If so, it represents it very poorly.
And as if that weren't enough, out of the middle of this thing comes a scratchy, distorted, greeting-card-quality recording of the little plastic sailors singing
Fifteen men on a dead man's chest,
Yo ho ho and a bottle of rum!
Drink and the devil had done for the rest,
Yo ho ho and a bottle of rum!

After this, the ship plays a jaunty little tune that I'm not familiar with. And then the Fifteen men business starts up again, and this cycle continues forever.
Consider this thing for a moment, shown here to maximum advantage in its official product shot: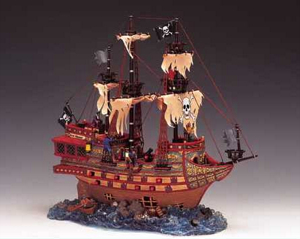 Someone, somewhere (probably at the research and development campus of Lemax, which appears to be the responsible party here) decided that what was needed was a 'spooky' animated singing lighted haunted galleon for people to put on display for Halloween.
From their website:
Since our founding in 1990, Lemax has been at the forefront of the rapidly growing pastime of lighted villages.
So they designed this thing, got the Lemax Glee Club to record their version of 'Fifteen Men', and shipped the designs and recordings off to China. In China, someone made molds for the shapes, procured the paint, little pirate flags, LEDs, geartrains for the animation, etc., etc., and hired people to put it all together.
Then, after they had a few thousand of these little ships in boxes, the boxes were packed into a shipping container and sent all over the world (but mainly, I assume, to North America) to be sold.
It's truly amazing. There are people out there — hundreds or even thousands of people — who make their entire living from the 'lighted village pastime'. And at least a few have made a living out of this terrible nasty little plastic ship.
This cell-phone movie I took does not do it justice because the phone tends to pick up more sound from behind the camera than from the thing that's actually pictured.
Posted by tino at 16:40 13.09.05