Customer Service
Martin's Is Out Of Grape Nuts Again
Last week I wrote about the challenges of grocery shopping in Front Royal — particularly the challenge of actually buying something as exotic as Post Grape Nuts cereal. When I wrote that, my grocery store actually had Grape Nuts in stock. No more.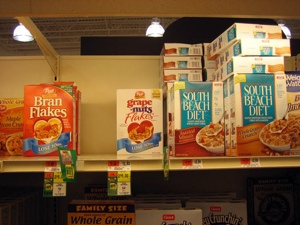 That hole on the shelf there is where the Grape Nuts should be. Plenty of South Beach Diet Flakes, though. There's always plenty of shelf space given over the stuff that nobody wants. It took them less than ten days to sell out; we'll see how long it takes for Grape Nuts to reappear.
They did have beans: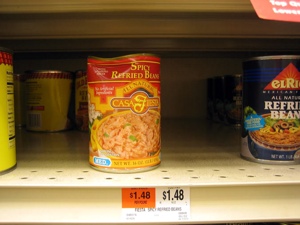 Though of course if you didn't want the dented ones, you were out of luck. With the aluminum cans they're using these days, you can only open one end: the top. So getting the beans out of this can will require a chisel or something.
And God forbid you should want non-ultra-pasteurized whole milk by the quart: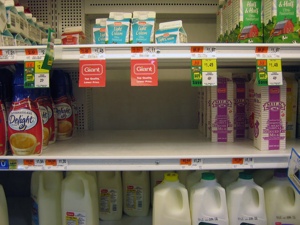 The ultra-pasteurized milk lasts for a month, but it doesn't taste like anything. Since I only use milk for tea and Grape Nuts (and hence don't use all that much milk, viz. comments about Grape-Nut availability above) if I buy more than a quart at a time, it spoils before I finish it.
I can understand running out of things from time to time, but the reality is not that they'll run out of things occasionally, but that occasionally they'll surprise you by actually having things in stock.
Posted by tino at 17:39 4.06.05